Professional Forum on Technical Challenges of Constructing a Green Deck at the Cross Harbour Tunnel Toll Plaza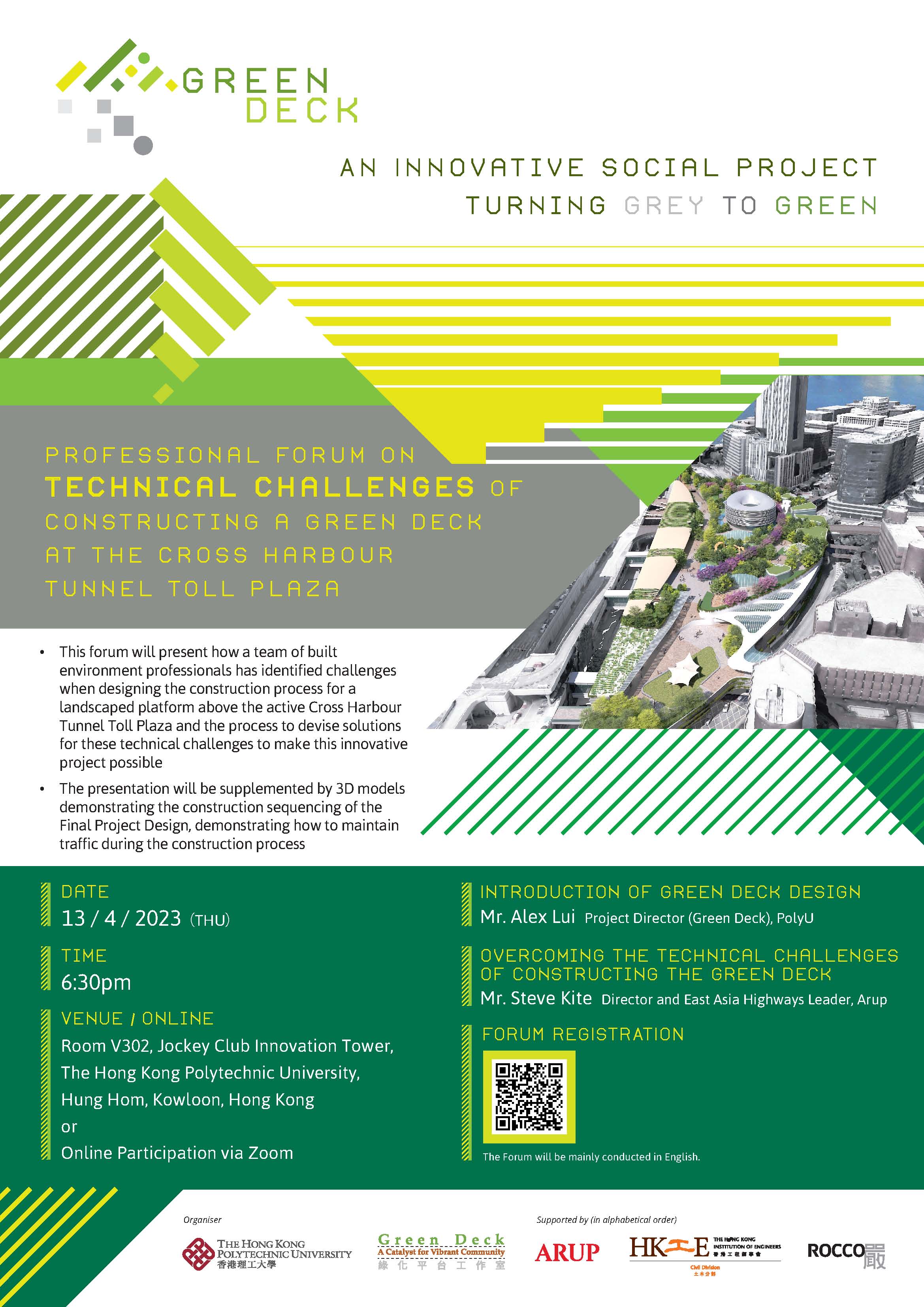 Date, time & admission
13 April 2023; 6:30pm - 8:00pm, Room V302, Jockey Club Innovation Tower, The Hong Kong Polytechnic University, Hung Hom, Kowloon, Hong Kong or Webinar via Zoom


Programme Highlight
The Hong Kong Polytechnic University (PolyU) has been advocating for a Green Deck to be constructed over the Hung Hom Cross Harbour Tunnel Toll Plaza with a view to enhancing the environment, improving connectivity to the neighbourhood districts and revitalizing the local economy. The concept of the Green Deck was presented to the public and received overwhelming support from the community and professional organisations alike. In pursue for furtherance of the Green Deck Project, PolyU has since November 2020 embarked on a Project Development Study of the Green Deck ("the Study") to further develop the design proposal and ascertain the constructability and technical feasibility of the Project.
This seminar will present how a team of built environment professionals has identified challenges when designing the construction process for a landscaped platform above the active Cross Harbour Tunnel Toll Plaza and the process to devise solutions for these technical challenges to make this innovative project possible. The presentation will be supplemented by 3D models demonstrating the construction sequencing of the Final Project Design, demonstrating how to maintain traffic during the construction process.


Speaker
Mr. Steve Kite, Director and East Asia Highways Leader, Arup
With 25 years of experience in Arup, Steve has been leading and managing the design of a number of landmark projects including Stonecutters Bridge and Tuen Mun - Chep Lap Kok Link Southern Connection Viaducts in Hong Kong, Temburong Link in Brunei, and various sea-crossings in the Philippines currently being planned.
He has extensive experience of design and construction of urban and marine bridges, management of design and construction supervision and complementary skills in construction contracts. As well as his projects roles, Steve has participated in European research into minimising disturbance caused by construction of urban bridge structures.


Registration & Enquiries
This seminar is free of charge. The number of participants is limited to 550 (maximum 50 for joining in person and 500 for joining online) on a first-come-first served basis. Priority will be given to members of the Civil Division.
Please complete the on-line registration via Zoom https://us02web.zoom.us/webinar/register/WN_Xgoun0kqRCCaQTAxax7HeQ. Email registration will not be accepted. Successful applicants will be informed by email via Zoom.
If you wish to join in person, please tick "Yes" " in the box "Please indicate if you would like to attend the seminar in person" within the on-line registration page, a confirmation email will be sent separately.
Attendance certificate will be issued after the seminar with the name provided at the time of registration. The seminar will be conducted in English.
For enquiries, please contact Ir Joe Wong by email at hkieciviltechnicalmeeting@gmail.com.