Technical Visit to Fanling Bypass Eastern Section, Hong Kong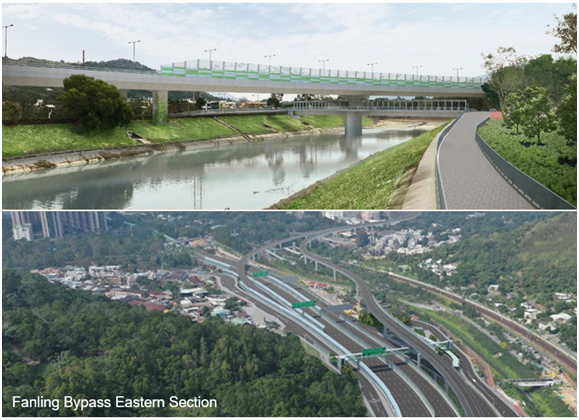 Organised by CV Division
Date and Time:
30 July 2022 Saturday, 08:45 am – 12:30 pm
Venue:
Assembly at Fanling MTR Station: Exit "A3"
Programme Highlight:
To ease the pressure on developed areas and the land demand arising from population growth, the development of Kwu Tung North (KTN) / Fanling North New Development Areas (FLN NDA) was listed as one of the major infrastructure projects. Capitalising on its strategic location in proximity to Ng Tung River with a succession of grassy, hilly terrain to the north, the FLN NDA is proposed to be developed as a 'Riverside Community' making the best use of its beautiful riverside scenery and hilly backdrop to create a comfortable living environment with a mix of residential, retail and services and agricultural uses, community and government facilities.
Fanling Bypass Eastern Section is one of the key road infrastructures to support the population intake and meet the traffic needs in the FLN NDA, which provides a direct bypass linkage between the proposed FLN NDA and the Fanling Highway. It is a 4 km long dual two-lane carriageway comprising of viaduct, at-grade road and underpass.
The works of Fanling Bypass Eastern Section are being carried out by two Contract Nos. ND/2019/04 (C4) and ND/2019/05 (C5). The scope of C4 contract mainly consists of construction of an approximately 2km long viaduct, at grade road and underpass between Shek Wu San Tsuen North to Lung Yeuk Tau, junction improvement works and construction of sewage pumping station and stormwater pumping station. The works in C5 contract mainly comprises construction of an approximately 2km long dual two-lane viaduct between Shung Him Tong and Kau Lung Hang, realignment of the existing Tai Wo Service Road East, Tai Wo Service Road West and Fanling Highway and construction of approximately 2.4km long noise barriers. The construction of C4 and C5 contracts commenced in mid-August 2020 and early March 2020 respectively.
Through the technical visit, participants will be able to visit site area of C4 & C5 of the project, understanding the development of the KTN/FLN NDA, bridge construction works and building works (sewage pumping station and stormwater pumping station).
Registration & Enquiries:
This technical visit is free of charge. The maximum of participants is limited to 20 on a first-come first-served basis with priority given to members of HKIE Civil Division. Applicants who have already successfully registered to or participated in more than FIVE (5) visits organised by Civil Division in the session 2021-22 will be given lower priority during the process of registration. Please visit the HKIE Civil Division website http://www.hkie-cv.org/ for online registration. Applicants are required to provide YOUR COMPANY NAME and YOUR POSITION by your e-mail to enq.cvd.hkie@gmail.com after registration. Only successful applicants will be notified on or before the visit.
For enquiries, please contact Ir Tim Leung at 9627 6889 or Mr. Matthew Lo at 6317 3791
or via e-mail:
enq.cvd.hkie@gmail.com
Registration
* Please fill out this form completely