IOM3 150th Anniversary Conference - Materials, Minerals and Mining in the Development of Hong Kong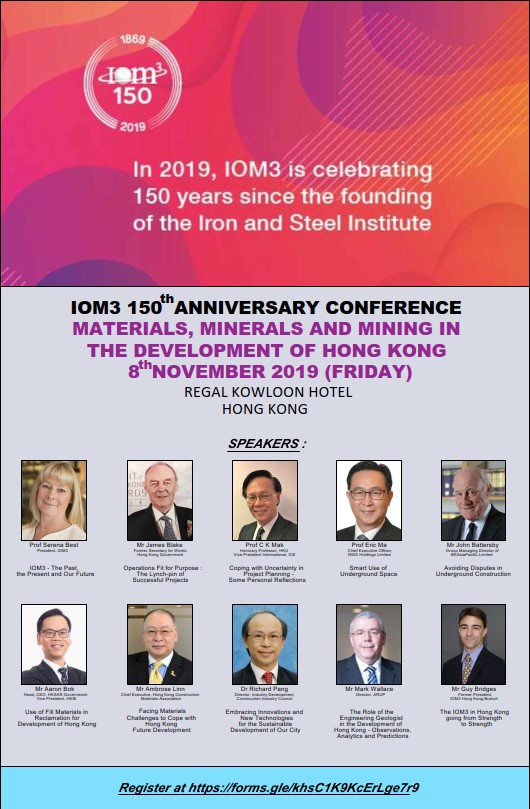 This event is supported by HKIE Civil Division

Time: 8:30am to 5:00pm
Venue: Versailles Ballroom, 3/F, Regal Kowloon Hotel 

Event Highlights

In 2019 the Institute of Materials, Minerals and Miningcelebrates its 150th anniversary.  Its roots go back to the Iron and Steel Institute which was established in 1869, and it received Royal Charters in 1899 and 1975.

To celebrate this occasion, the Hong Kong Branch has put together a programme of lectures to cover a variety of subjects that are related to Materials, Minerals and Mining, and the development of Hong Kong. Subjects will range from a look back at what has been achieved in the past and look forward to what the future might hold in store for us. The role of technical institutes such as IOM3 in enabling this development will be discussed.  
Fee and Registration 
880 HKD (Covers buffet lunch and tea / coffee breaks). To register please register through the online registration form at (https://forms.gle/khsC1K9KcErLge7r9) . For more information, please email Mr. George Ho, at george.ho@aecom.com.
Attention:
Please ignore the message "This event is already full". For registration, please refer to the above link.